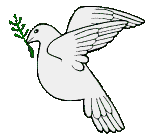 It seems fitting today to remember a remarkable outbreak of peace that happened during World War I.
The Nation
has an article about it entitled,
"Short Peace In A Terrible War":
Rather, Anderson recalled in an interview on the 90th anniversary of the truce, "there was a dead silence that morning, right across the land as far as you could see. We shouted 'Merry Christmas,' even though nobody felt merry."

The calls of "Merry Christmas" from the Brits were answered by Germans singing: "Stille Nacht. Heilige Nacht. Alles Schlaft, einsam wacht."

The Brits responded by singing "Silent Night" in English. Then, from the trenches opposite them, climbed a German soldier who held a small tree lit with candles and shouted in broken English, "Merry Christmas. We not shoot. You not shoot."

Thus, began the Christmas Truce. Soldiers of both armies -- more than a million in all -- climbed from the trenches along the Western Front to exchange cigarettes and military badges. They even played soccer, using the helmets they had taken off as goalposts. And they did not rush to again take up arms. Along some stretches of the Front, the truce lasted into January of 1915.

Finally, distant commanders forced the fighting to begin anew.

Thus, it has ever been with war. As George McGovern, the decorated World War II veteran who would become one of America's greatest champions of peace, "old men (are always) thinking up wars for young men to die in."

But Alfred Anderson remembered, well beyond the century of two world wars and too many lesser conflicts, that the young men of opposing armies often have more in common with one another than they do with the old men who send them into battle.

Once, on a Christmas Day that ought not be forgotten, the young men decided to make a short peace in a terrible war.
May it be so again. And may the hearts of the
old
men be softened and brought to compassion by the true meaning of Christmas.
Peace on earth; good will to all people.